Pandanus Utilis.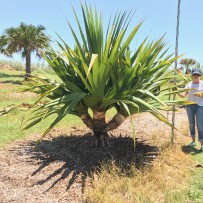 Common Name: Red Edged Pandanus
Native Of: Madagascar and Mauritius
Native Habitat: Sandy to rocky exposed slopes
Form: Upright, generally multi trunking with wide spreading head.
Evergreen / Deciduous: Evergreen
Features: Grey brown trunk and round seed pods create a statement. Branching often uniform from main trunk
Drought Resistance: ****
Frost Tolerance:*
Salinity Tolerance:****
Comments: An architectural specimen.