Pandanus Pedunculatus.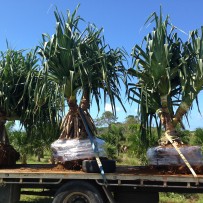 Common Name: Coastal Screw Pine
Native Of: Coastal Eastern Queensland and New South Wales
Native Habitat: Pandanus are native to coastal dunes and headlands of eastern Australia
Form: Pandanus are a small tree with a widely branching canopy supported by prop roots.
Evergreen / Deciduous: Evergreen
Features: Pandanus produce large orange fruit up to 40cm across.
Drought Resistance: *****
Frost Tolerance: ***
Salinity Tolerance: *****
Comments: Pandanus are an easily recognisable tree suited for coastal and beach plantings. Makes a very good feature plant as all are individual with good structural lines.